This is my latest album – released on Demerara Records
Having received airplay on BBC Radio 3, it also going down well with lovers of ambient experimental electronica.
Available on Amazon and iTunes
Also available on QoBuzz

The last track "Robot Heart Beats On The Land", caught the ear of Max Reinhardt for BBC Radio 3's Late Junction show and has been one of the most listened to pieces on the Demerara Soundcloud page.
2 further tracks have also been played on BBC R3's Late Junction. These are 'Captain Beefhearts' In My Computer' and the piano improvisation 'Globular Clusters' which was recorded live at Kettles Yard Cambridge.
Many thanks to both Max Reinhardt and Neil March for making this happen.
You can hear the podcast on the Demerara Records website here.
All of the pieces are original compositions, composed by some amazingly talented composers who create a unique and memorable sound world that leaves a lasting sonic imprint on your ears. The album design was done by my brother, Neil Avern. The picture was taken by me and features the beautiful Alexandra Palace (or Ali Pally as I prefer to know it by).
The founder of Demerara Records is Neil March who, not only has given me a chance to have my piece heard by a wider audience, but has been fuelled by a desire to have new music heard without boundaries, classifications and prejudices. I am honoured to be part of a project that pairs me with so many other exciting composers and look forward to the release.
You can preview some of the tracks on the album on the Demerara Records Soundcloud page here or listen to them below:
https://soundcloud.com/demerararecords2/autoversus-by-guy-avern
For more information and to offer your support please check the following links out: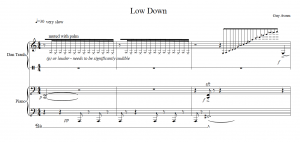 Above is the first page of the score for a piece I wrote for prepared piano and Dan Tranh. This was performed by Kate Ryder and Than Thuy Nguyen. I am hoping to get a recording of this so you can get to hear it. The Dan Tranh is a kind of plucked zither type of instrument from Vietnam. Wikipedia can explain in more detail:
The combination of the sound worlds offered with these two instruments was very enticing and this was a really enjoyable combination to compose for.